2023 Colloquium: Criminalization of Dissent: Historical and Contemporary Repression of U.S. Resistance Movements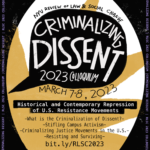 The 2023 Review of Law and Social Change Colloquium – Criminalization of Dissent: Historical and Contemporary Repression of U.S. Resistance Movements – brought together organizers, legal practitioners, and activist scholars to learn more about the ways in which the state and institutions are suppressing radical justice movements, this repression's impacts on our own communities and communities across the globe, and the ways in which they can fight back against efforts to stifle the right to dissent. This was an opportunity to hear from people on the ground, better understand the through-lines of suppression of dissent in the U.S., and chart a way forward together.
Criminalizing Dissent Colloquium Brochure
Please find an overview of the four panels below.
This event was planned in collaboration with BALSA, the Center on Race and Inequality, CoLR, DALSA, Immigrant Rights Project, LSJP, NLG, OUTLaw, SALSA, SRP and WoCC, and with the support of more than 20 co-sponsoring student organizations. Thank you to all of our supporters!
Day 1 Recording:
Day 2 Recording:
Panel Overviews
Day 1 – March 7th, 2023
Panel 1 | 4:30 – 6:00 PM EST
What is the Criminalization of Dissent? – Discuss the theoretical concept and history of criminalizing dissent and the ways in which U.S. law and culture represses resistance. This panel will examine historical examples of suppression of activism related to U.S. foreign and domestic policy, international liberation movements, and community organizing.
Moderator: Nadia Ben-Youssef – Advocacy Director, Center for Constitutional Rights
Panelists:
Sean Hill – Assistant Professor of Law, Ohio State University
Tejasvi Nagaraja – Assistant Professor, Cornell University School of Industrial and Labor Relations
Carey Shenkman – Human Rights Attorney and Author
Emerson Sykes – ACLU
Panel 2 | 6:30 – 8:00 PM EST
Stifling Campus Activism – Discuss the ways in which higher education stifles and monitors student activism. Panelists will discuss the ways in which both higher education curriculums, incentive structures, and requirements make activism more difficult on campus and pull students away from organizing outside of campus. This panel will discuss the ways in which students and others in academia can remain committed to social causes and how the legal profession can evolve to more directly serve to advance justice.
Moderator: Vasuki Nesiah – Professor of Practice, NYU Gallatin School
Panelists:
Tolu Lawal – Fellow, NYU Law Center on Race, Inequality, and the Law
Dylan Saba – Attorney, Palestine Legal
Nerdeen Kiswani – Chair and Founder of Within our Lifetime
Jon Hanson – Professor of Law, Harvard; Director of the Systemic Justice Project
Day 2 – March 8th, 2023
Panel 3 | 4:30 – 6:00 PM EST
Criminalizing Justice Movements in the U.S. – Discuss the recent history of criminalization and the role of police in suppressing, terrorizing, and fracturing racial and climate justice movements. This panel will discuss police and legislative responses to the Ferguson Uprising, protests in the wake of police murders of Mike Brown, Eric Garner, Breonna Taylor, and George Floyd, the Standing Rock and Line 3 protests, and the ongoing #StopCopCity actions. This panel will explore the efforts to deter and fracture justice actions, the experiences of those who have been targeted by the state, and the central role state violence plays in suppressing dissent.
Moderator: Jilisa Milton – Deputy Director, Greater Birmingham Alliance to Stop Pollution
Panelists:
Micah Herskind – Policy Associate, Southern Center for Human Rights
Julian Hill – Assistant Professor of Law, Georgia State University; Founding Director of Community Development & Entrepreneurship Law Clinic
Alina Das – Professor of Clinical Law, NYU School of Law
Astha Sharma Pokharel, Center for Constitutional Rights
Panel 4 | 6:30 – 8:00 PM EST
Resisting and Surviving – We will discuss how criminalization of dissent impacts the lives of organizers in the wake of a justice uprising, how it impacts organizers working under the threat of criminalization, and what resources exist to support those who have been targeted because of their justice work. We will also hear from lawyers about legal avenues and litigation tactics to resist these attacks.
Moderator: Omavi Shukur – Research Scholar, Columbia Law
Panelists:
Joela-Abiona Rivera – Community Organizer and Founder of The Stonewall Protests
Gideon Orion Oliver – NYC lawyer; NLG member
Anne White Hat – Water Protector and Herbalist
Rabab Abdulhadi – San Francisco State University