We're sorry, but there are no upcoming symposia at this time.
The 2023 Review of Law and Social Change Colloquium – Criminalization of Dissent: Historical and Contemporary Repression of U.S. Resistance Movements – brought together organizers, legal practitioners, and activist scholars to learn more about the ways in which the state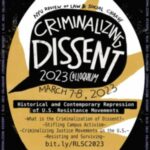 The Colloquium brought together organizers, legal practitioners and activist scholars to unpack the status of the United States as a settler colonial society and explore the ways in which settler colonialism manifests itself in its laws, policies and practices.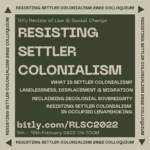 Defund to Abolish brought together community organizers, legal practitioners, and activist scholars to unpack and explore strategies to defund and abolish the police, and engage with the imaginative possibilities of a police-free world. Para leer más sobre el Coloquio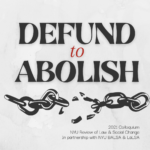 This Colloquium brought together scholars, legal practitioners, community activists, and policymakers to imagine the possibilities—and limits—of the law in facilitating truth, reconciliation, and meaningful reparations.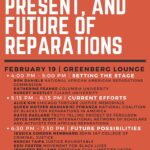 "Invest-Divest" will explore a call to action by the Movement for Black Lives: investment in marginalized communities, and divestment from mass incarceration, drawing on an increased awareness of precisely how the criminal justice apparatus is financed.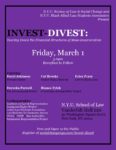 Three distinguished panelists discussed racial injustice and the child welfare system, with moderation by Chris Gottlieb. The symposium closed with an open discussion with the audience followed by a reception.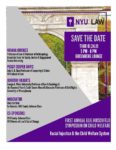 In a discussion organized by the Brennan Center for Justice, experts and activists examined the renewed push for ratification of the ERA, which raises new questions of strategy and substance.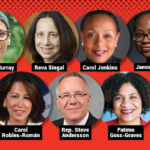 Exploring the unique challenges that each rural community faces, the common misconceptions to which rural communities are subjected, and the innovative strategies and initiatives different organizations and communities are pursuing to address different rural communities' legal challenges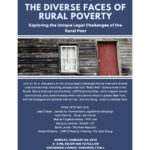 A series of intersectional talks given by four community organizers, a movement lawyer, a poet, and a scholar who shared their work and reflections on abolition and building viable alternatives to policing and incarceration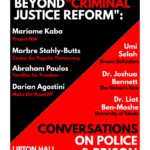 A series of three panels on organizing workers, the relationship between labor and non-union workers, and the future of alternative labor organizing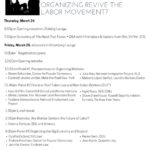 Examining how sex offender registration laws have affected the lives of roughly 650,000 registrants (and their families), what effect they have had on rates of offending, and how they might be reformed.