Coloquio Desfinanciar Para Abolir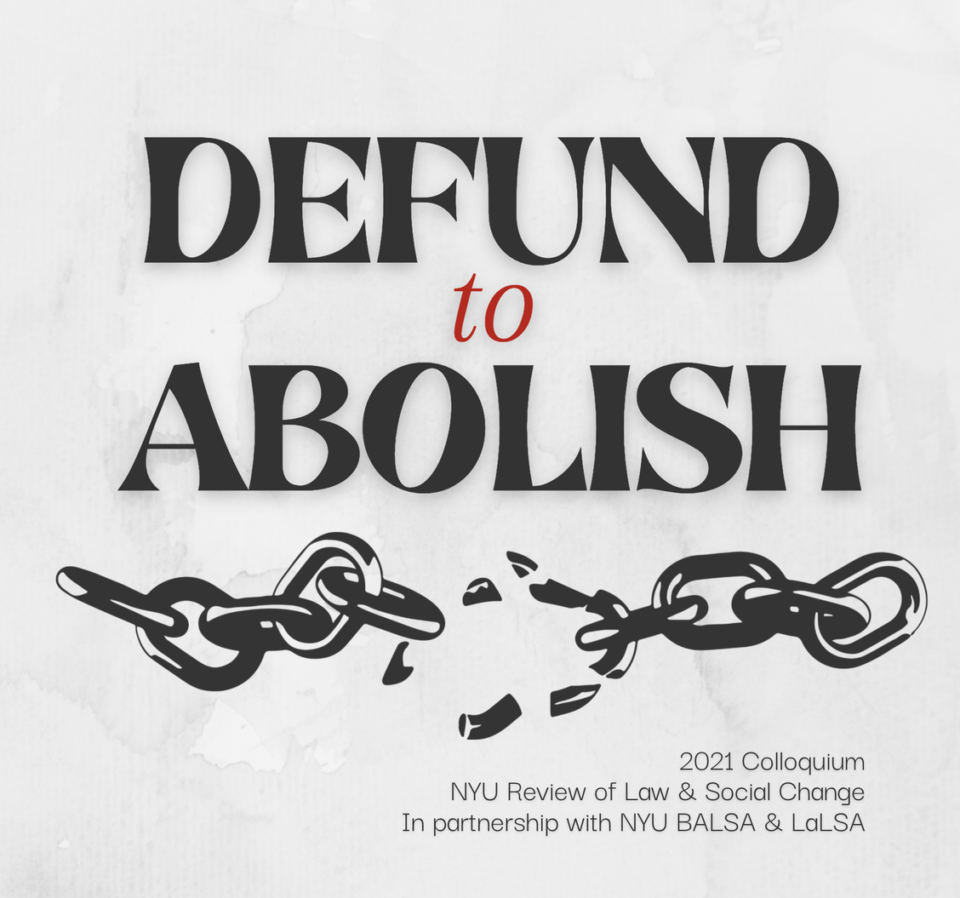 El coloquio se llevó a cabo el 9 y 10 de febrero, 2021 5:30 PM – 8:00 PM ET.
El evento reunió organizadores comunitarios, abogados y académicos activistas para explorar estrategias para desfinanciar y abolir la policía, y comprometerse con las posibilidades imaginativas de un mundo libre de policías.
Obtenga más información sobre nuestros paneles a continuación y más sobre nuestros panelistas aquí. Puede encontrar nuestro folleto aquí en inglés y español, y un recurso para actuar aquí en inglés y español.
Organizado por les editores coloquios de NYU Review of Law and Social Change, Aiesha Krause-Lee, Claire Lowinger-Iverson, y Lauren Wilfong, con el apoyo del Comité del Coloquio RLSC, en asociación con NYU Law Black Allied Law Student Association y Latinx Law Students Association, con el copatrocinio de más de 40 organizaciones estudiantiles de NYU Law, y el generoso apoyo fiscal de NYU Law Student Bar Association.
Este evento tuvo subtítulos en vivo, así como interpretación simultánea al lenguaje de señas estadounidense y al español hablado. La grabación y la transcripción del evento estarán disponible en socialchangenyu.com pronto.
Video: Primer Día (Paneles I y II)
Video: Segundo Día (Paneles III y IV)
Panel I: Desfinanciar Significa Desfinanciar
Feb. 9, 2021 5:35 – 6:45 pm ET
Los panelistas contextualizaron el momento actual, discutieron la división entre las estrategias reformistas y abolicionistas y trazaron una visión para el futuro de los movimientos para desfinanciar y abolir la policía.
Jamelia Morgan (moderadora) | University of Connecticut School of Law
Andrea Ritchie
CeCe McDonald | The Black Excellence Collective, Black Excellence Tour, y Black Youth Support Network
Kempis "Ghani" Songster | Amistad Law Project y Abolitionist Law Center
Mimi Kim | Creative Interventions
Mon Mohapatra | 8 to Abolition
Panel II: Abolición de la Policía a Través de Sistemas Vinculados
Feb. 9, 2021 6:45 – 7:55pm ET
Este panel proporcionó ejemplos de cómo la policía y la criminalización aparecen en instituciones e industrias tan variadas como la tecnología, la educación, la inmigración y el trabajo sexual, y unas estrategias que están utilizando los organizadores para sacar a la policía de estos sistemas y espacios.
Deborah Archer (Moderadora) | NYU School of Law, Center on Race Inequality and the Law
Girls for Gender Equity
Jared Trujillo | Decrim NYC
Sarah Hamid | The Carceral Tech Resistance Network
Tsion Gurmu | Black Alliance for Just Immigration
Panel III: Comunidades Sin Policía: Mantenemos Nuestras Comunidades Seguras Nosotros Mismos
Feb. 10, 2021 5:30- 6:45pm ET
Los panelistas compartieron ejemplos concretos de estrategias abolicionistas para la seguridad comunitaria y discutieron sus visiónes para sistemas de seguridad comunitaria futura que no dependen de la policia.
Zach Norris (moderador) | Ella Baker Center for Human Rights
Danielle Sered | Common Justice
Kelly Savage | Survived and Punished
Kerbie Joseph | Audre Lorde Project, Safe OUTside the System
Lilac Maldonado | The Fireweed Collective
Panel IV: Desfinanciamiento de la Policía en la Práctica
Feb. 10, 2021 6:45-8:00pm ET
Organizadores que llevan a cabo campañas para desfinanciar a la policía en ciudades variadas reflexionaron sobre diferentes estrategias y tácticas para desfinanciar a la policía, qué barreras han enfrentado y qué estrategias han demostrado ser más efectivas.
Amna Akbar (moderadora) | Ohio State University Moritz College of Law
Anthonine Pierre | Communities United for Police Reform y Brooklyn Movement Center
Chas Moore | Austin Justice Coalition
D'atra Jackson | Durham Beyond Policing y BYP100
James Burch | Anti Police-Terror Project
Truth Maze | Reclaim the Block
Este evento no hubiera sido posible sin nuestros socios, NYU Black Allied Law Student Association y Latinx Law Students Association, Student Bar Association y nuestros más de 40 copatrocinadores:
NYU Center on Race, Inequality, and the Law
Alternative Breaks
American Constitution Society
Asia Law Society (ALS)
Black Allied Law Student Association (BALSA)
CannaLaw Society
Christian Legal Fellowship (CLF)
Coalition on Law and Representation (CoLR)
Defender Collective
Disability Allied Law Students Association (DALSA)
Domestic Violence Advocacy Project (DVAP)
Education Law and Policy Society
Ending the Prison Industrial Complex (EPIC)
Environmental Law Society (ELS)
Health Law & Policy Society (HLPS)
HIV Law Society (HIVLS)
If/When/How
Latinx Law Students Association (LaLSA)
Law & Government Society
Law Dems
Law Students for Economic Justice (LawSEJ)
Law Students for Justice in Palestine (LSJP)
Law Women
Mental Health Law and Justice Association (MHLJA)
Middle Eastern Law Students Association (MELSA)
Midwestern Law Society
National Lawyers' Guild – NYU Chapter
National Security Law Society
NYU Law & Political Economy Association
NYU Law Immigrant Rights Project
NYU Mediation Organization (NMO)
OUTLaw
Public Interest Law Student Association (PILSA)
Research, Education and Advocacy to Combat Homelessness (REACH)
Resisting Injustice and Standing for Equality (RISE) Indivisible
Rights Over Tech
Social Enterprise & Startup Law Group (SE-SL)
South Asian Law Students Association (SALSA)
Sports Law Association
Student Advocates for Empowerment Through Harm Reduction (SAFER)
Student Animal Legal Defense Fund (SALDF)
Student Bar Association (SBA)
Suspension Representation Project (SRP)
Unemployment Action Center (UAC)
West Coast Connection (WCC)
Women of Color Collective (WoCC)